Wet Dry Vacuum 15 Gallon With Stainless Steel Tank and Tool Kit
The 15 gallon stainless steel wet dry vacuum provides true professional quality to meet the most demanding needs and environments. This is top equipment for stripping floors, water recovery, dust pick up and general maintenance.
Features:
• 1.6 hp, 1200 watt motor with 114 CFM and 100" water lift provides the high performance for wet and dry needs
• 2-stage filtration with a washable cloth filter bag to keep dust out
• Super performance pleated, washable synthetic cartridge filter for higher filtration for fine dust
• 1 1/2" vacuum hose for fewer clogs
• Comes with a 10' swivel hose, 2-piece wand, crevice and dusting tools and 14" floor/rug and squeegee tools
Add to List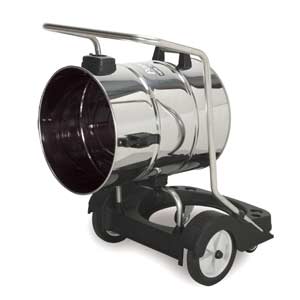 Tip and Pour
Nothing is easier than "tip and pour" waste disposal of our stainless units.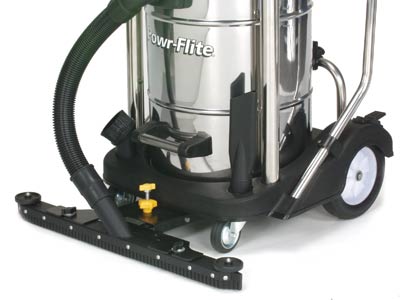 Additional Front Mount Squeegee
Optional front mount squeegee system picks up water faster than a hose
wand and its especially effective in tight spots.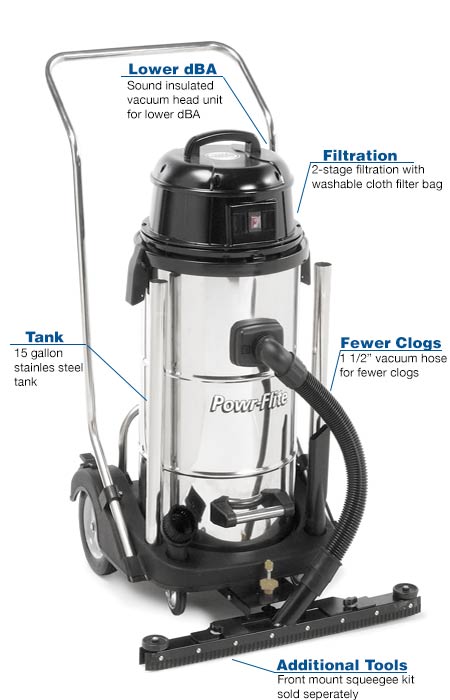 Filter-Primary
Paper-Pleated

Filter-Secondary
Cloth Washable

Hose
1.5" x 10 ft. w/ Swivel Connector/Cuff Lock

Warranty
5 years housing, 1 year parts and labor