Millennium Edition Burnisher 2,000 RPM
Powr-Flite's new and improved 2,000 RPM Millennium Edition Burnisher features a patented housing design, combined with precision-balanced weight distribution for maximum efficiency. This eliminates the need for a compensating caster, providing complete pad-to-floor contact - unlike conventional burnishers. High RPM and full pad-to-floor contact provides that high gloss "wet look" shine.
Features:
• 2,000 RPM burnishers provide great results on all types of floor finishes
• Included 20" flexible pad driver allows full pad-to-floor contact (no compensating caster)
• Thumb-activated safety interlock switch prevents accidental start-ups
• Full-surround, non-marking bumpers help prevent damage to walls and furniture
• Each machine is assembled and tested by skilled American workers
Currently backordered, will ship within 1-2 weeks.
Add to List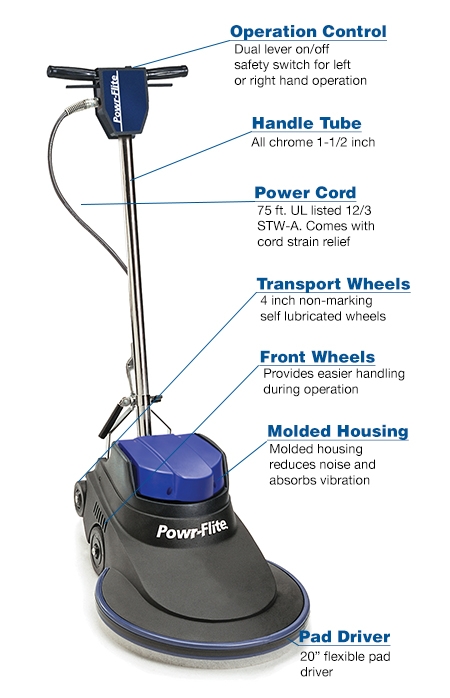 Cord Type
75 ft. UL listed 12/3 SJTW-A

Cord Strain Relief
Heavy duty metal, lock nut and spring

Handle Tube
All chrome 1.5"

Cleaning Productivity
26,000 ft²/hr

Operation Control
Dual lever on/off safety switch

Warranty
10 years - housing, 2 years - motor, 1 year - parts and workmanship