Riptide Multi-Surface Cleaner
The Riptide is designed to help maintain the floors in your facility and help your bottom line. The Riptide's 15 gallon tank paired with its DirectConnect™, allows for less downtime allowing you to finish the job quicker. The Riptide's superior pickup ability combined with accelerated dry time place the Riptide in a category all it's own. The Riptide is a "jack of all trades" allowing you to clean everything from bathroom tile, concrete, windows and carpet. Hand Tool and High Pressure Washer sold separately.
Features:
• Tile & Grout Cleaning
• Carpet Extraction
• Concrete cleaning
• Pressure Washing
• Automatic Discharge at 5 Gallons/Minute
• DirectConnect™ for less down time
• 500- 1200 PSI
• The Riptide ships with a 12" Hydro Wand, 30' solution hose and two 25' water supply hoses.


Product Overview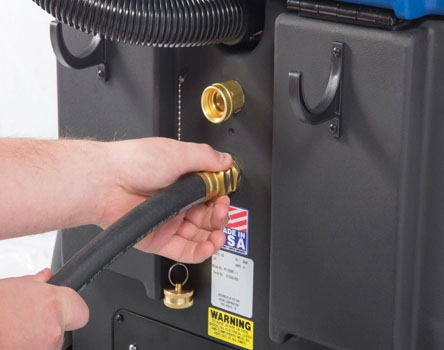 Cleaning Made Easy
The Riptide is all about making cleaning easier. With everything from auto discharge out via garden hose attachment, to everything you need storing conveniently on the machine, you'll be able to get cleaning quicker and easier.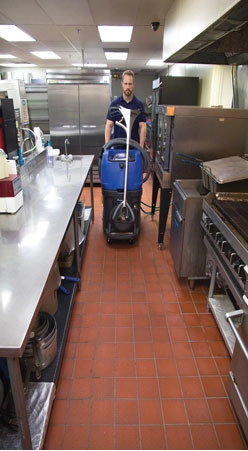 Versatility Is Its Middle Name
Features such as a 15 gallon recovery tank, constant water flow via DirectConnect™ and the ability to clean multiple surfaces, combine to make the Riptide one of the most versatile multi-surface cleaners on the market. This single machine can clean grout, tile, concrete, windows and carpet.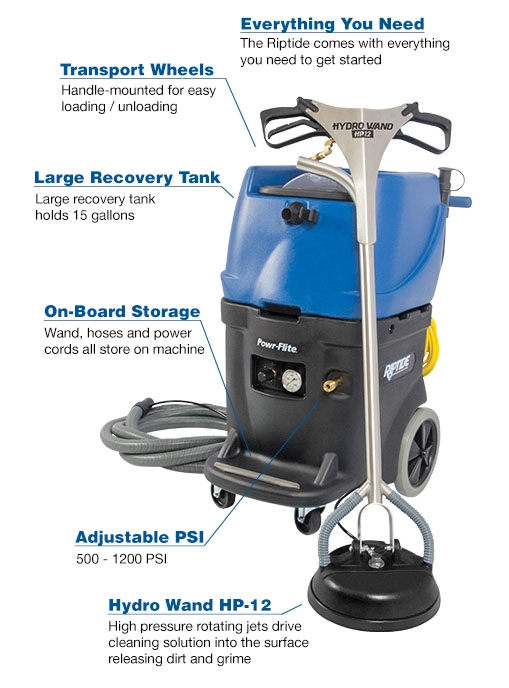 Solution Tank
None - Continuous Feed

Solution Pressure
500 - 1,200 p.s.i.

Restock Date
Sep 22, 2021