Nebula Multipurpose Tool: Disinfectant Mister / Extractor / Detail Cleaner
DISINFECT EVERYTHING YOU MIST!
One machine that can both mist disinfectant and performs small extraction jobs in high traffic areas or upholstery. 
Excluded from current discounts.
Add to List
• Designed for use with all water-based disinfectants on the EPA "List N"
• Includes two brass spray tips - Fan Nozzle and Atomizing Nozzle
• Fan Nozzle - .25 Gallons Per Minute Rate
• Atomizing Nozzle - .05 Gallons Per Minute Rate
• Whisper quiet when in mist-only mode
• On-board storage for hoses, wands, and nozzles
• Built-in dolly with wheels features a collapsible handle for easy use and storage
Excluded from current discounts.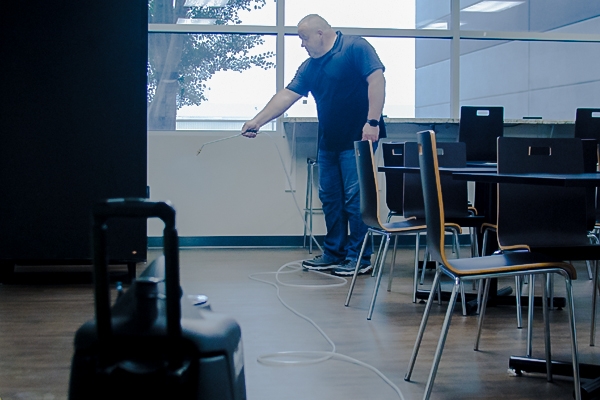 Superior Reach
35' misting cord and 25' cord allows for 120' of complete disinfecting coverage. Nebula mists your facility with disinfectant using 35 foot hose that makes it a snap to disinfect multiple rooms. Best of all, the 25' cord gives you plenty of reach. Portable and lightweight, It also quickly picks up small wet spills and spot clean high-touch areas such chairs and couch arms.
10' Rigid Hose with Outsider Solution Line
The Powr-Flite Nebula mister and specialty cleaner makes it easy for you to use disinfectant and quickly clean fabric high-touch areas. 10' hose length provides the flexibility needed to reach almost anywhere you need to clean. The compact design weighs only 36 lbs. effortlessly moved from location to location with an extendable telescoping handle and 5" transport wheels.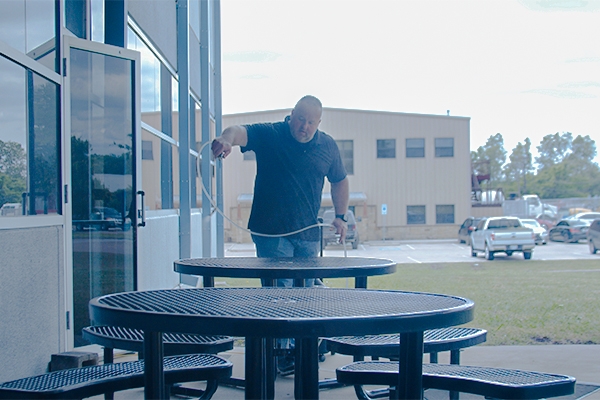 Misting Wand
Durable 18' misting wand easily applies
disinfectant. Two included nozzle tips meet
application needs.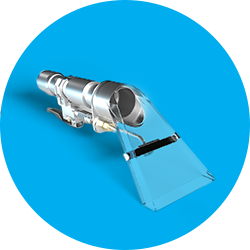 Hand Tool
Great for both spot/upholstery and
detail cleaning of fabrics, upholstery and
carpeting.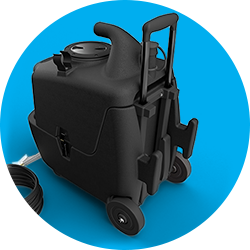 Easy Transport
The Powr-Flite Nebula comes standard
with a telescopic handle for easy transport.
How to Mist:
1. Add water and manufacturer's recommended solution ratio into the solution tank. Fill only to the fill line indicated on the label on the inside of the solution tank.
2. Attach misting wand pressure hose to the quick disconnect in the pocket at the front of the machine.
3. Turn the 3-way switch to MIST ONLY setting. (Allow approximately 30 seconds for the pump to prime).
4. Use the wand with spray tip to spray the solution. The atomizing nozzle that is pre-installed on the wand applies the smallest micron-sized droplets and is perfect for most applications.
5. To apply use a natural up and down or side to side motion 18" from the surface, slightly overlapping from one section to the next. Do not dwell on a spot, as this will cause over-saturation.
6. Refill the solution tank, as recommended above, to resume cleaning.
Coverage Per Tank
7,500 - 10,000 sq. ft. misting coverage per tank

Misting Hose Length
35' with quick disconnect