Demo - Comfort Pro Backpack Vacuum - 6 Quart
Assembled in Texas by skilled American workers, the Comfort Pro represents a major innovation in backpack vacuums. The Comfort Pro offers features not found in other backpack vacuums including the Aircomfort harness system with a mesh back panel keeping the operator cooler as well as CRI Gold level performance which will make the Comfort Pro THE choice of cleaning professionals.
Features:
• 130 CFM
• 4-stage HEPA filtration for improved indoor air quality
• Superior 68 dBa rating meets LEED requirements
• Tools fit conveniently on waist belt
• Ergonomic shoulder harness from Deuter, the #1 hiking and backpack company in the world
• Designed to transfer the majority of the weight to the hips, eliminating strain on the back
• Comfort Pro backpacks come complete with a high-quality toolkit, 50' safety-yellow power cord, and two HEPA filter bags
Add to List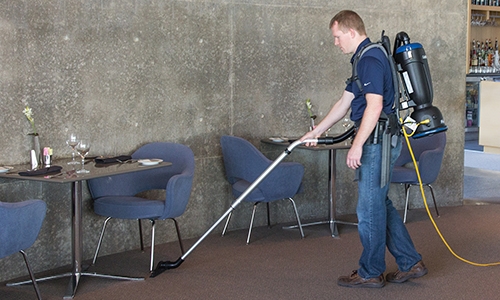 World Class Cleaning Performance
The new Comfort Pro backpack vacuums have earned the "Gold" Seal of Approval from the Carpet and Rug Institute (CRI), the pinnacle of cleaning performance. Engineered to deliver superior cleaning power, productivity and dependability, while protecting Indoor Air Quality (IAQ), these backpacks are the perfect combination of power and comfort.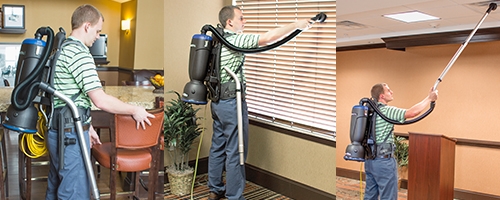 As Versatile As It Gets
The Comfort Pro can be used on all types of carpet and hard floors and can also be used for "above the floor" cleaning. The premium model features storage for tools right on the belt - so you can clean any surface without having to go back and change equipment.